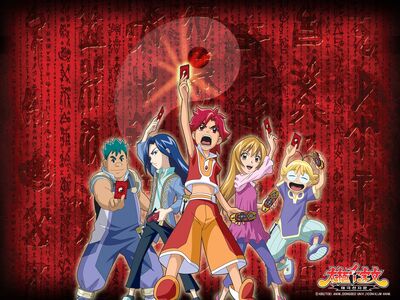 Welcome to the Tai-Chi Senjimon Wiki
Welcome to the Tai-Chi Senjimon Wiki! This wiki is always updating with new facts and articles for the South Korean animated series known as "Tai-Chi Chasers" on 4Kids Toonzai.
Tai Chi Chasers
Tai Chi Chasers stars Rai as the usual Hero of the TV Show.
Rai, a young orphan, is shocked to discover he's a secret descendent of the Tigeroids: an ancient race of peaceful beings locked in struggle with the ruthless Dragonoids. In a parallel universe called Suhn, the Tigeroids and Dragonoids are locked in an age-old race to recover 500 lost tai chi symbols. Whoever recovers these precious and potent symbols will possess the ultimate power to rule their realm…and destroy their enemies. Rai must now hone his innate tai chi card skills to fight the Dragonoids, find the lost symbols and battle to become one of the champion Tai Chi Chasers.
Blogs and Fanfictions
Also check out the blogs and fanfictions:
Blogs:
Favorite Tai Chi Chasers Couple
Fanfictions:
link to Finn and Sena fanfiction
Links
Chinese (Canotnese): http://v.youku.com/v_show/id_XMTE0MDc4MDg0.html?f=3671804
http://www.bukade.com/cartoon/taijiqianziwen/tudou_1.html
http://www.bilibili.tv/video/av743600/index_27.html
http://www.yueyuez.com/3/2/3484/
http://www.qire123.net/cartoon/TJQZW/ (1-29)
http://www.dm456.com/donghua/4898/
Korean: [Note: All episodes are there except episode 30]
http://channel.pandora.tv/channel/video.ptv?ch_userid=disjqkqhdi&prgid=37095009&categid=33426138&page=3
Hebrew: [Note: Episodes 1-26/ Cut off scenes]http://www.kidstv.co.il/vod/%D7%90%D7%9C%D7%95%D7%A4%D7%99%20%D7%94%D7%98%D7%90%D7%99%20%D7%A6'%D7%99/s01
[Note: These episodes are nonsubbed]
Latest activity