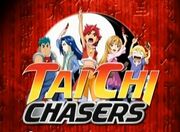 Searching For A Sign
is the English dub theme song for the series
Tai Chi Chasers
on 4Kids Toonzai block. Its a
rtist is Michele Dunn.
Other Theme Songs
The series has also been dubbed in other countries and so far has been dubbed in Hebrew and Cantonese, along with English.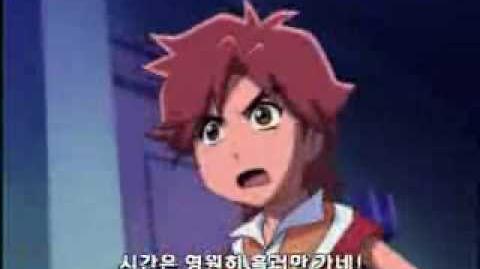 Korean OP English Tranlations
Construction of sky and Earth.
A dark sky is illuminated.
Born in the harsh land where is life!
Sword of sky, press down the yellow ground cloth!
The universe- Hong Huang!
It is impossible to know the end of the Universe.
It is time for all, but in his.
Hong Huang house is rough!
The universe works in the world.
Cheonjamun found in
Index of Characters.
Taeguek Choenjamun.
And not like floating and raising.
Like a flower blooming and the defendant.
With the counsel of Lee Jae-ho, Par Papa.
Because a winner it's not admit.
Teaguek Cheonjamun!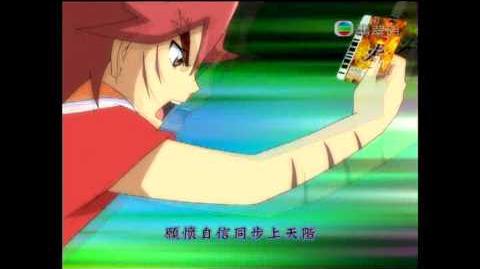 Cantonese OP English Translations
From the beginning to the open end
As the lives of four images and rotating universe,
They been sky and earth- 100 call.
Put in the world of thousands of feet of a thousands of lifetimes.
This brake is the beginning to see the five elements.
Deathmatch will be activated at anytime desperately.
Light and shadows rushed
Both monsters go back
Most black and white opposites.
With the strange symbolic functioning
Band of Willing safe haven to the synchronization
Flip text through Once Upon a Time.
Faith only need to say
Idea highlighting the Ganges River can be seen
The movement like Tai Chi pernament.
This call is the sign of the world.
Align the accumilation area of a thousand lifetimes.
Ad blocker interference detected!
Wikia is a free-to-use site that makes money from advertising. We have a modified experience for viewers using ad blockers

Wikia is not accessible if you've made further modifications. Remove the custom ad blocker rule(s) and the page will load as expected.